'Ambition'  is an attribute we encourage all our pupils to have at Hydesville Tower School.
Hydesville has an ongoing commitment to ensuring that all our pupils have access to good quality impartial careers advice, thereby ensuring that each pupil has the best possible foundation on which to base their future choices and pathways.
Alongside the meetings, careers support is provided through whole school and class curriculum activities at KS3 & 4. Each student has access to information in the Careers Library as well as the Careers Advisor. Miss Fairbrother and Giselle Douglas (Careers Advisor based at Shire Oak Academy) provide impartial careers advice for Years 10-11, helping students make those crucial career decisions from choosing GCSEs, Apprenticeships and A Level Choices. Every Year 11 student is seen by the Careers Advisor to make sure that they have explored all possible options before making their decision about their post-16 Education, since it is a legal requirement for all young people to be in either education, employment or training up to and including the age of 18. Careers, course options and their links are also an integral part of the tutor mentoring process, again ensuring that our Year 9s and Year 11s have adequate support to help them make informed choices regarding their options.
Parents or employers who are interested in getting involved supporting the school in delivering careers services can contact our Careers Advisor, Danni Fairbrother by e-mailing danni.fairbrother@hydesville.com.
To find out more about our safeguarding and child protection policy, please see here:
Careers Guidance Year 7-11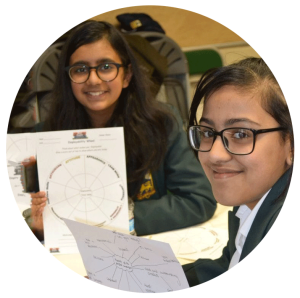 School Sixth Form
Being a Sixth Former is very different from being a student in Year 11. The curriculum is very different, relationships between students and staff will be different and often more relaxed.
Sixth Forms generally tend to provide a more structured and supportive environment than colleges. They enable students to choose up to 3 or 4 subject areas – offering a wide selection of both A Level and BTEC courses to ensure students options remain open.
More information can be found by visiting the school's website(s) and attending information evenings.
Read More
Careers Information Hub
To give you all the additional support in the next stages of your educational career, we have an information hub below which covers colleges of further education, skills to identify, facilitation with interview preparation and useful website guidance which you can download and read at your own leisure.