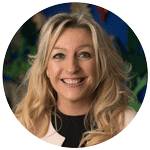 Mrs Smith
Head of Nursery
The Nursery years are a magical time for any little boy or girl. Their world grows enormously and it can be daunting at first, for both your child and you, but very quickly their sense of wonder and natural curiosity joyfully and voraciously emerge.
Our Nursery, first and foremost, is a safe and caring, homely environment where the wellbeing of every child is our utmost concern. Second only to that is our dedication to their rounded development, and testament to this is the advanced level at which they join Reception, compared to those without the Hydesville headstart.
Excellent Nursery provision for children from the age of three.
Children can join us as soon as they have celebrated their third birthday and almost all progress into our Reception when they are 4+.
Children with autumn birthdays will spend almost two years with us, joining Reception just prior to their 5th birthday.  Children who turn three in July or August enjoy our nursery for just over a year.  Wherever their birthday falls, you can be confident that your child will have an exceptional start to their educational journey.
Competitive fees – £3,678 per term (£11,034 annual fee).  Hot meals and healthy snacks are included in our fees
We are open for a maximum of 49 weeks a year, dependent on demand.  We are open from 8:00 am until 6:00 pm during term-time (38 weeks). In addition we offer  Holiday Clubs, which include trips and visits.  Holiday Club hours are 9:00 am until 4:00 pm
During term time school is open from 7.30 am, for which there is a small additional charge (£1.05 for every 15 minutes).  We are closed for a fortnight at Christmas, one week at the end of the Summer holiday, all Bank Holidays and INSET training days.
A deceptively large site with bright, well resourced classrooms and a relaxing conservatory style area for story-time
A well-equipped outdoor learning space for the Early Years, a play area and private access to Walsall Arboretum where children enjoy a range of Forest School activities
An individual learning package for every child
Workplace childcare vouchers are accepted
We offer 30 hours' Government funding to eligible families of three and four year old children
All three and four-year-olds are entitled to 15 hours of free early years education for 38 weeks a year starting from the term after the child turns three
We have been awarded Millie's Mark accreditation, a Quality Mark for nurseries where employees working directly with children are trained in paediatric first aid
A comprehensive extracurricular and enrichment programme, including PE, Dance, French, ICT, Art & Drawing Club
Outstanding pastoral care – a caring and supportive environment where every child can flourish
We prepare our children for the next stage of the learning journey, ensuring they are school ready when they leave us and join our reception class
We support fundamental British Values to enhance our children's personal, social and emotional development
Regular parental engagement activities – eg teddy bears picnic, Mad Hatters tea party
On-site drop off is available during wrap around hours