Hydesville pupil wins place at Harrow School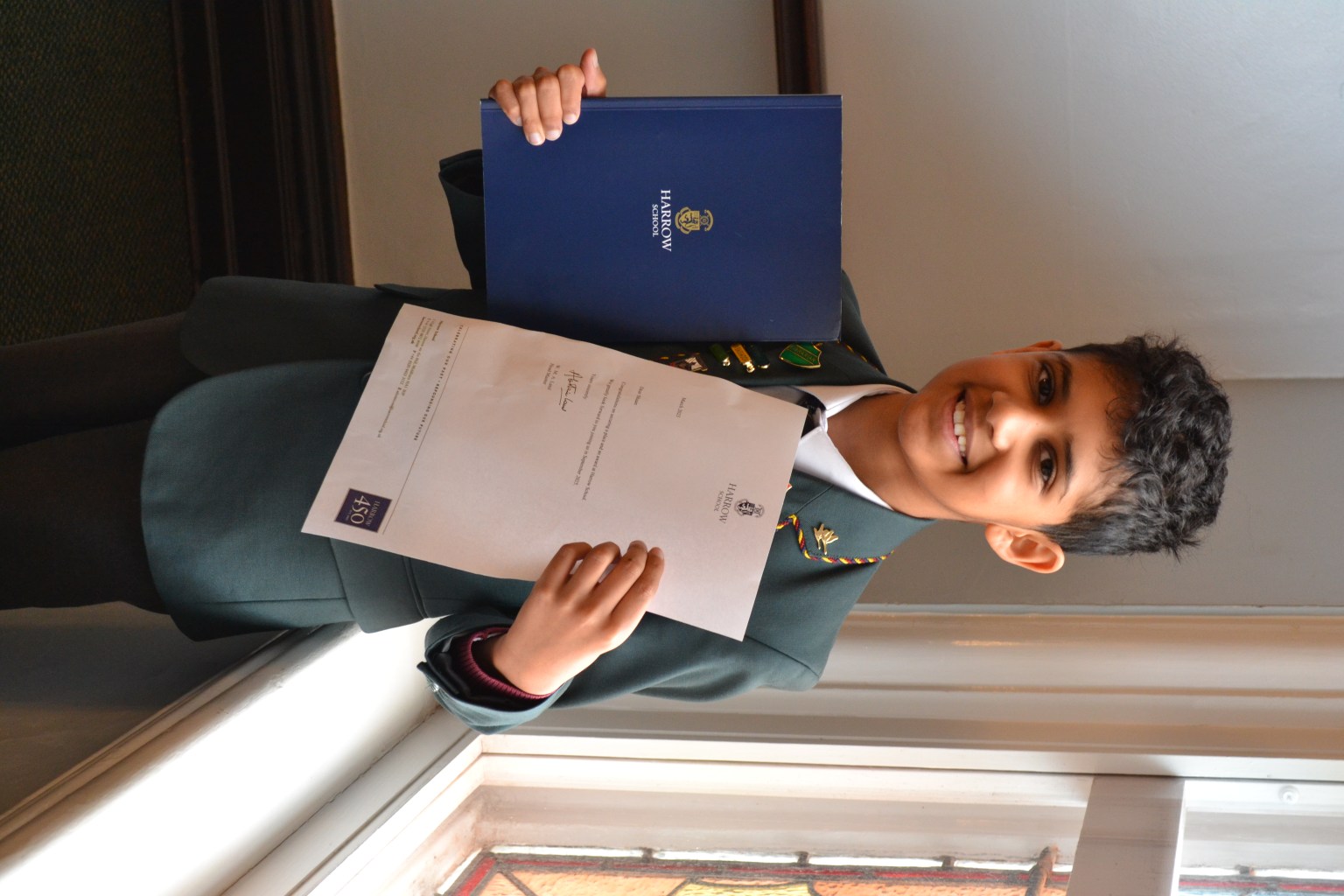 A school pupil from Hydesville Tower School is celebrating after being offered a scholarship to a top private school.
Ten-year-old Shaan Dulay has been offered the prestigious Winston Churchill Scholarship from Harrow School, named after the past alumni.
Shaan also achieved well over the qualifying 11+ scores for entry into Birmingham and Walsall grammar schools and has also been offered an Academic Scholarship at Hydesville Senior School.
Shaan has chosen Harrow, saying it is a 'dream come true' as for him, it's his 'perfect school'. He will join the boarding school in Year 9, remaining at Hydesville Tower School until then.
Harrow's Winston Churchill Scholarship is given to a child who 'demonstrates the characteristics of personal courage, wide-ranging thinking, a global outlook and who may one day change the world for the better'.
The Scholarship couldn't be more perfect for Shaan, who is a keen environmentalist and eco-friendly blogger. At the age of nine he was chosen as the first ever Young Ambassador for Birmingham & Black Country Wildlife Trust. He is a Youth Eco-Committee member for Eco-Schools England. Last year he was named Hero of 2022 by the current affairs magazine, The Week Junior, for his efforts in standing up for a cleaner, greener future. Shaan is also part of the Hall of Fame for the BBC's Regenerators Bitesize.
Shaan's parents, Baljinder and Onkar Dulay, said the family wanted to show with Shaan's success that 'nothing is impossible'.  They said: "As parents we have always been proud of Shaan's achievements, regardless of what he participates in. This scholarship he has been awarded at Harrow School highlights his dedication, hard work, and perseverance in everything he sets his mind to.
"We are extremely happy that his dream of attending Harrow, a world-renowned school has come true. Proud, is an understatement of how we feel about him. We hope he continues to go on and make a positive difference to the world and those around him."
Mrs Samra, Headteacher at Hydesville Tower School, added: "I would like to say how very proud I am of Shaan and his achievement in gaining the Scholarship. This is a testament to all Shaan's hard work and support he has received from his teachers.  He is determined young man and an exceptional role model for his peers."
Published on: 14th March 2023