Thank you for your interest in our school.  Our current admissions process is simple and transparent and outlined on this page here. We do not have a catchment area and we welcome children of mixed abilities and many talents. We are non-selective. 
You will be guided every step of the way by our experienced Admissions Team. Children are welcome to join us at any time during the school year and into any year group, subject to a place being available. Please do not hesitate to contact Mrs Rachel Passi, Admissions Officer, on 01922 748817 or get in touch with us here by filling in the form and we will be in contact with you.  We look forward to hearing from you. 
Join us at one of our next Open Events* to find out more about Hydesville Tower School. All events are listed here, from in school Nursery stay & plays to all school open events.  We look forward to meeting you to tell you more about our School. Please complete the short form below to confirm your attendance at these events.
For more information on alternative options to visit us and to find out more about our School, please contact us on 01922 748817 or email admissions@hydesville.com
2023 OPEN EVENTS
Reception Information Event:
Tuesday 28th March –  9.30am
Find more about joining our Reception in September 2023, including presentations from teaching staff and Head of the Prep School. Find out more about our small class sizes, our hugely successful Centre for Excellence in 11+ Preparation (taught to children in Year 2 and above) and our extensive enrichment programme.
Book your place below, and come along to find out more.
Easter Eggstravaganza: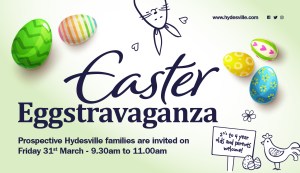 Friday 31st March –  9.30am
Prospective Hydesville parents and children aged between 2 and a half and 4 years are invited to join us for our Easter Eggstravaganza on Friday 31st March.
Come along for a morning of art and craft activities, including making Easter baskets & decorations.
There will also be an Easter egg hunt, and if we're lucky, the Easter bunny might make a special appearance…
We promise you will leave with happy children, Easter eggs, hot cross buns and hot chocolate!
Places are limited, so booking is essential.
For more details and to reserve your place on any of our open events, please contact Admissions Officer, Rachel Passi, on 01922 748817 or email admissions@hydesville.com

Book your place at our next open event