Hydesville Tower continues to lead as one of Walsall's top performing non-selective school achieving way above national average pass rate and 45% of all grades achieved at GCSE at 7-9 (A, A*, A** equivalent)
Students in year 11 are enjoying excellent GCSE results. The abundance of 9, 8 and 7 grades this year (equivalent to A* and A) at Hydesville Tower School, which is renowned for not only its academic rigour but also for offering exceptional pastoral care and the range of extracurricular activities, is a testament to the wonderful teaching and learning environment on offer.
The headlines in brief are:
45% of GCSE entries at Hydesville Tower School have been awarded the most sought after 9, 8 and 7 grades (A*/A equivalent)
75% of grades achieved were 9 to 6 (A*- B equivalent)
Over a third of the cohort were awarded grades 9-7 in nine or more subjects
100% pass rate at Biology, Chemistry, Physics and English Language GCSE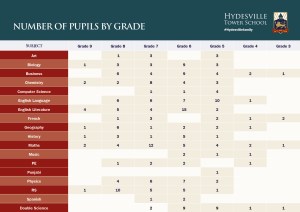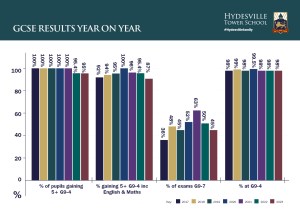 Grades awarded at 7+ in Maths (the previous A grade equivalent)
(vs. 17.1% National Average)
Pupils achieving G4+ (inc Eng & Maths)
Grades awarded at G7+
(vs. 21.6% National Average)
Grades awarded at G5+
(vs. 52% National Average)
Exam results are one important measure of a school's performance and we are proud to report consistently top notch grades.
Hydesville Tower Senior School is consistently ranked as the third highest achieving Secondary School in the borough in the GCSE league tables published by the Department for Education.  The league tables show that the school's Attainment 8 score – which gauges achievement across eight qualifications including English and Mathematics –  far exceeds the national average.
Although extremely proud of our position in the GCSE performance tables, there is another measure which is of greater importance to us; the amount of progress each child makes.  'Value added' is a measure of the progress pupils make between different stages of their education; if pupils perform beyond expectations this is reflected in a high 'value added' score. The Senior School is within the top three per cent nationally when it comes to adding value to a child's level of attainment.
We are proud to be a Centre for Excellence in 11+ Preparation.
From all the Year 6 pupils in our Prep School sitting the 11+ exam in September 2022, 74% secured offers of a place at grammar school.
Their success is due to a combination of natural ability and the teaching and experiences they have received from our Nursery onwards.
The specific 11+ preparatory work our experienced teachers deliver from Year 2 gives our pupils a clear advantage.  We are proud of our academic achievements and high quality teaching.
Preparation for 11+ has always been a tradition at Hydesville and a significant number of pupils continue to secure places at our local grammar schools.  We understand that such places are not suitable for all pupils and our regular tracking and monitoring enables us to support all pupils to the journey to success.
GL assessments are undertaken every year across the country, with benchmarks of above 110 as representing high achievement (above average). Therefore, success obtained is a measure of our extraordinary teaching that occurs in the Prep School.
Our GL assessment enables us to check the accuracy of attainment within a national context. For the academic year 2022/23 we are delighted to announce another successful year where all year groups averaged 111+ in GL assessments (English and Maths combined), with the average scores as follows:
| | |
| --- | --- |
| Year Group | English & Maths combined score |
| Year 1 | 118 |
| Year 2 | 115 |
| Year 3 | 116 |
| Year 4 | 117 |
| Year 5 | 118 |
| Year 6 | 111 |
Our EYFS profile results are well above national levels and by the end of the academic year 2022/23, 90% of our Reception children reached a Good Level of Development. This compares to 64%of children in Walsall and 67% of children nationally reaching a Good Level of Development.
Pupils continue to achieve highly and exceed national expectations at the end of Key Stage 2.  The end-of-year results for 2022/23 are as follows:
| | | | |
| --- | --- | --- | --- |
| | Expected Standard | National Scores | % of HTS pupils at Greater Depth |
| Reading | 79% | 73% | 38% |
| Spelling, punctuation and grammar | 95% | 72% | 53% |
| Mathematics | 84% | 73% | 32% |