Welcome to Reception at Hydesville Tower School
At the age of 4, children progress into our Reception Year. Many children move from our nursery to join us, but we also welcome many new children to the school at this stage. There are two classes who are jointly supported by a teaching assistant. All our Early Years staff are fully trained in Paediatric First Aid.
Only a few places currently remain for Reception entry in September 2023
Contact our Admissions Team on 01922 624374, or email admissions@hydesville.com for more information or click here.
Meet the Team
Mrs K Dowen
Reception Teacher & EYFS Coordinator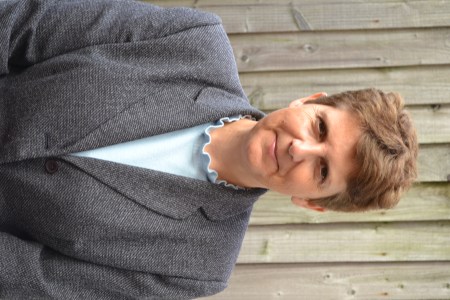 Mrs C Entecott
Reception Teacher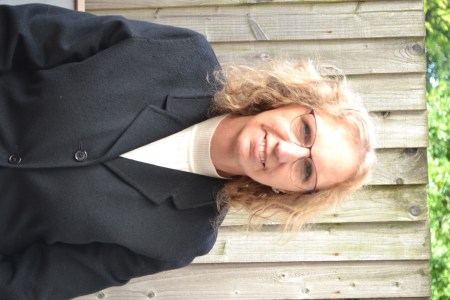 Key information for parents and carers
Parents and Carers are key contributors to their child's progress at this young age and the school values the benefits of working closely with them. Reception staff will always discuss any news or concerns you have regarding your child. Therefore, you are always welcome to approach staff or request meetings should you wish to discuss a matter with us. Please see the attached documents for further information regarding the school and the curriculum.
Useful documents
This booklet contains key information for parents/carers regarding the Reception year. A paper copy is also sent out to parents/carers prior to beginning Reception. It outlines essential information for new parents, a full-uniform list and information about how the curriculum is delivered in the setting.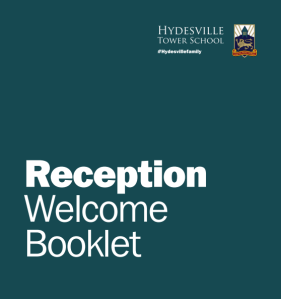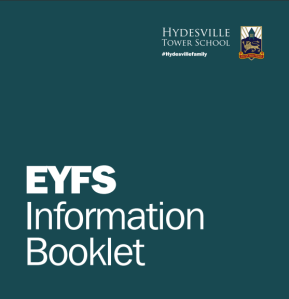 This flyer gives useful information, tips and advice on how to help your child prepare for Reception at Hydesville.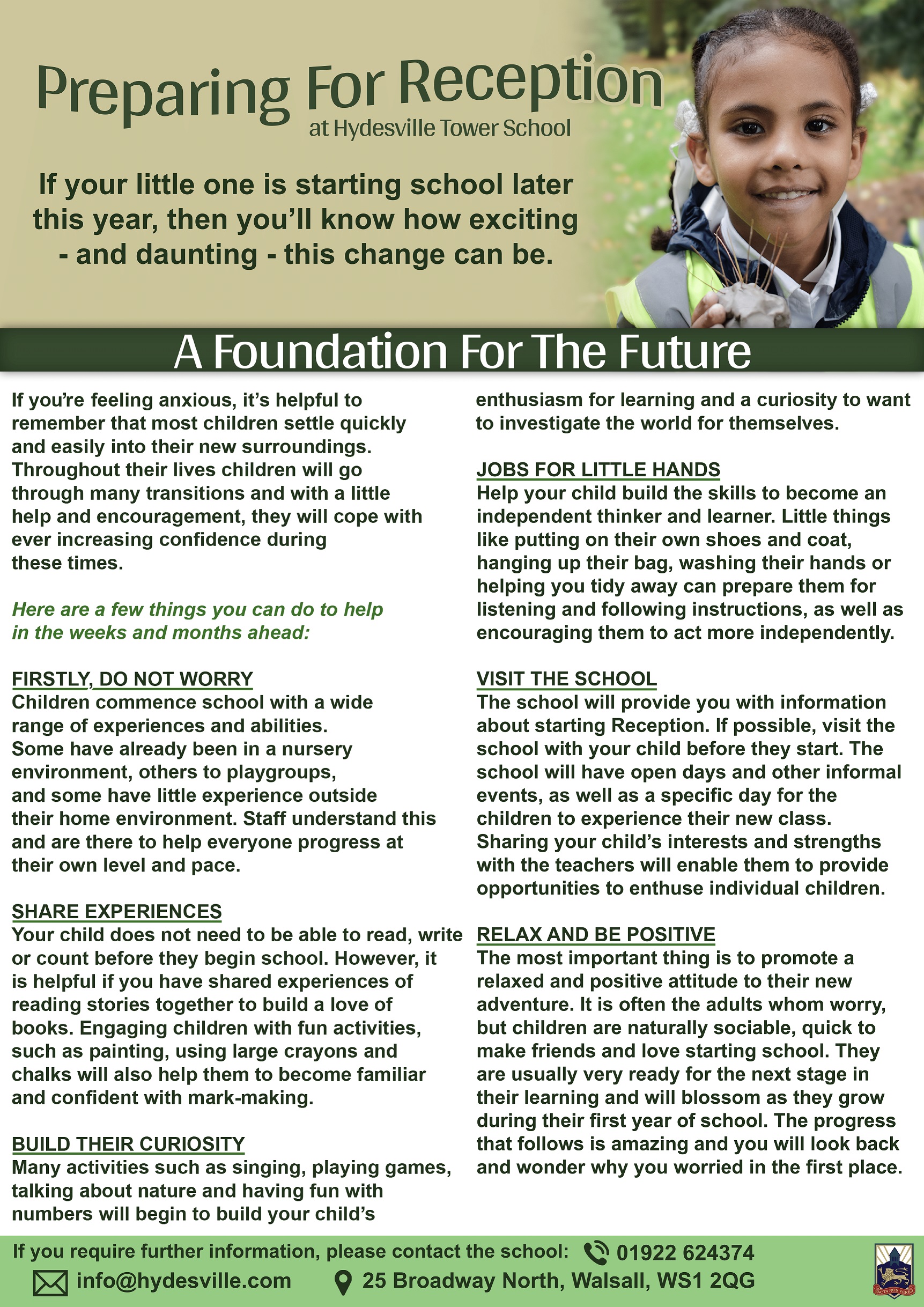 We continue to follow the 'Foundation Stage Curriculum' in Reception, but we now begin to ease the children into a more structured school day, in readiness for Key Stage One.
In line with the Early Years approach, both indoor and outdoor learning are promoted and we use the different environments within and around the school grounds, including the Arboretum, to achieve this aim.
Throughout the year, children continue to make progress in their creative and cognitive abilities and develop their numeracy and literacy skills. Dance and PE lessons are taught by Mrs Townsend and Music, Topic and ICT lessons are also introduced. There is very much a focus on developing the 'whole' child – a child who is self-confident, happy, enquiring, enthusiastic, motivated, considerate –  and one who has a wide range of experiences to take forward with them into Year 1.
Here is the weekly timetable: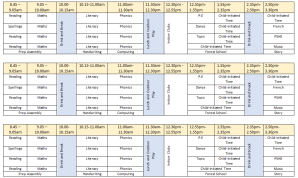 At Hydesville we follow a varied and interesting timetable.
Here are the Autumn Term 2023 curriculum plans:

| | |
| --- | --- |
| Girls Winter Uniform | Boys Winter Uniform |
| School blazer with crest | School blazer with crest |
| White revere collar blouse | White shirt |
| Pinafore dress in school tartan | Mid grey trousers |
| School cardigan with crest | School jumper with crest |
| No tie | Tie (elasticated) |
| White socks or navy tights | Grey socks |
| Black school shoes (not canvas or boot style) | Black school shoes (not trainers or canvas) |
| Green school hat with burgundy hatband | School cap |
| Green School coat | Green School coat |
| Dark green scarf and gloves (optional) | Dark green scarf and gloves (optional) |
| | |
| --- | --- |
| Girls Summer Uniform | Boys Summer Uniform |
| School blazer with crest | School blazer with crest |
| School summer white printed dress | Mid-grey school shorts |
| School boater with burgundy headband | School cap |
| White ankle socks | Short sleeve white shirt |
| Black school shoes (not canvas or boot-style) | Black school shoes (not canvas or trainer) |
| Plain white peaked cap for outdoor play | Plain white peaked cap for outdoor play |
For PE and Dance lessons (boys and girls)
Plain white polo shirt
Plain navy shorts
Black pumps
White trainers for outdoor PE lessons
Short white socks
Branded navy pump bag
Additional items
Branded school navy book bag
Navy all-in-one or two-piece waterproof suit (for Forest School)
Green painting overall
School Meals, Drinks and Snacks
Morning Drink
Prior to Reception's morning breaktime, at 10.00am, they receive either a drink of milk or water from their school drinks bottle.
Lunchtime
The children's lunchtime takes place in the school dining hall and begins at 11.45 am. The children are provided with a hot school meal and are encouraged to eat a balanced and nutritious meal. All dietary needs are catered for and children are given a choice of main meal and pudding. They also receive another drink of water or squash during lunchtime. The children will then have outdoor play until 12.30pm, followed by an indoor club delivered by one of our EY team.
Afternoon snack
The children then receive another snack at 2.30pm, (such as a small sandwich or yoghurt) which is provided by the school. The children are also encouraged to take a further drink during this time.
Drinks Bottles
The children are provided with a school drinks bottle at the beginning of the year (which is for water only) and they should bring this into school everyday (either empty or full).
Wrap-around Care
Children can purchase a drink and breakfast items from the school's dining hall from 8.00am-8.30am if they are attending Breakfast Club with Mrs Riley. Should they be attending After-School Club with Mrs Riley then they should bring a healthy snack with them and their own drink. These will be stored in a fridge during the day.
At Hydesville Tower School we offer a Before and After School Club for all pupils:
Before School Club – 7.30 am to the start of the school day
After School Club – the end of the school day to 6.00 pm
Reception children are supervised in the Dining Room during the After School Club. Here they are supervised and enjoy playing games and doing set activities with our team.
The booking and payment for Before or After School Club is made via our parent app, Cognita Connect.
Families are able to book their Before and After School Club sessions up to a half term in advance. The cost of each session is:
Before School Club:
7.30 am – 8.00 am – £1
8.00 am – school start – £2
After School Club:
School end – 4.00 pm – £2
4.00 pm – 4.30 pm – £1
4.30 pm – 5.00 pm – £2
5.00 pm – 6.00 pm – £2
The contact telephone number for Mrs Riley (who leads our After School Club) is: 0738 5935 856
Reception organise a minimum of one trip per term and these are seen as a vital step forward in encouraging children's self-confidence and independence. Trips are usually linked to a particular topic or they may be organised with an aim of developing particular skills (such as when attending Art Workshops at the New Walsall Art Gallery).  We aim to keep the total cost of trips to a maximum of £30 per term.
Trip destinations may include places such as:
Ash End Farm
The New Walsall Art Gallery
National Forest Adventure Farm
Local places of worship (including temples etc)
Conkers
Black Country Living Museum
West Midlands Safari Park
Theatres
Ceramic workshops
Parents should contact the School Office between the hours of 8am and 4.30pm on 01922 624374.
After 4.30pm (and until 6pm), please contact Mrs Riley on: 0738 5935 856.