Personal laptops for every pupil from Year 3 to Year 11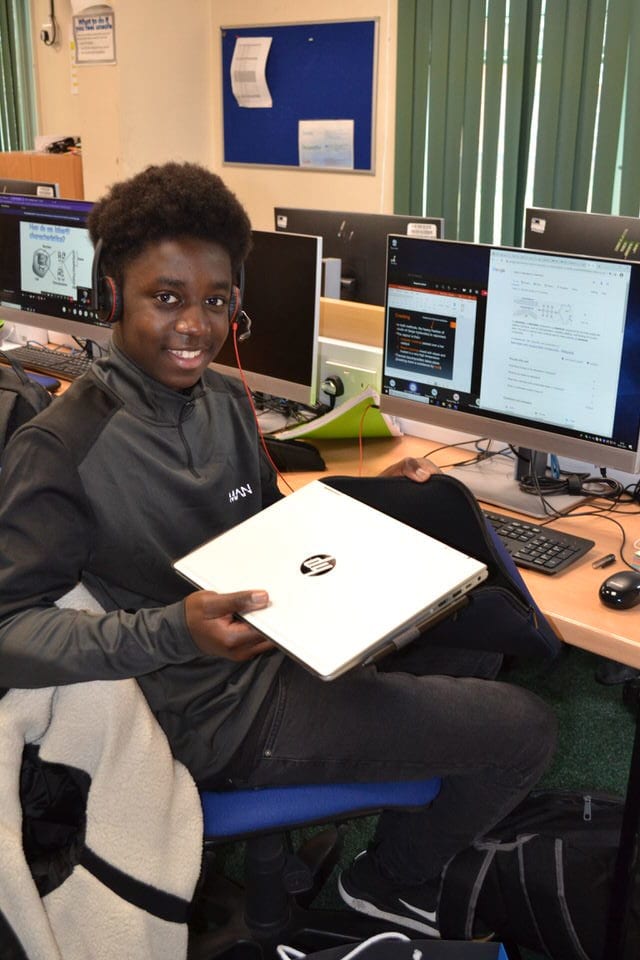 It's been a very exciting day at Hydesville as we've begun giving out laptops to all pupils in Years 3 to 11.
As the current lockdown continues, these personal devices will be invaluable for enabling pupils to access online learning.  And when we re-open pupils will be able to transition smoothly from home to school.
Mr Honey said: "This is a really exciting development for our learning provision.  Whilst the personal devices ensure every pupil has access to home learning, this programme is also about the integration of the most beneficial aspects of digital learning in education now and in the future. It will enable our pupils to develop their digital skills, preparing them for life beyond school. In addition, it will allow our teachers to use technology in the best way possible to support personalised learning, from providing feedback through to developing peer-to-peer collaboration skills. We're confident that we are moving towards the classroom of the future."
Govind in Year 11 said: "It's really exciting for us to be given these laptops to help us with our in school and online learning.  We will now be able to work from anywhere and at any time, and they will help us to communicate with each other and our teachers.  We all feel very fortunate that we have been given this opportunity."
Hydesville recognises the importance of online safety so the devices come with cutting edge Artificial Intelligence (AI) monitoring software that runs in the background 24 hours a day to filter out any inappropriate content based on the age of the student.  There will also be clear expectations set about how and what the device should be used for, as well as the length of time it should be used every day.
Mr Honey continues: "It's important to stress that when we are fully open and pupils are back in school, these devices will not be replacing traditional classroom teaching and will not necessarily be used in every lesson. They will simply enhance teaching where relevant and leave us in a very strong position should we have to return to further remote learning in the future."
Published on: 19th January 2021